Remediation Services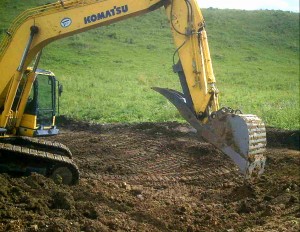 We provide our clients with site specific Remediation Action Plans (RAPs), including applicable disposal options, potential treatment options or site specific guideline derivation.
At Ridgeline, we realize that all cost savings large or small are dependent on the scale of the project but all cost savings cumulate and are valued by our clients.
Success has been realized on a large scale by minimizing or eliminating contaminated soil volumes by utilizing Risk Assessment based remedial approaches. These approaches either independently or in concurrence with in-situ or ex-situ remedial technologies have significantly reduced safety risk, carbon foot print, client liability and total project cost.
Services include:
Assessment
Risk management
Tier II soil and groundwater remediation guidelines
Technical Reporting Group
On-site treatments
Bioremediation
---
Soil and Groundwater Remediation and Risk Assessment
Ridgeline offers a wide variety of Environmental Site Assessments associated with the Environmental Industry. Each type of assessment targets a specific inquiry and may be implemented separately or in combination, in order to satisfy each specific Site Assessment.
We can efficiently and cost-effectively help your company navigate through your Environmental requirements.
Phase I
A Phase I ESA identifies actual or potential sources of well site contamination. To prepare your report, Ridgeline will analyze data collected through a file review, a site visit, and interviews with landowners, leaseholders, site operators and other stakeholders.
Phase II
A Phase II ESA confirms the presence and types of impacts at your property. Assessments involve analysis of past site activities and soil sampling at predetermined locations and depths. We may also use electromagnetic (EM) technology to quickly identify areas of potential concern.
Phase III
If your Phase II ESA indicates contamination levels above Regulatory criteria, a Phase III ESA Wellsite Remediation program is required. Ridgeline's Environmental professionals will provide a Remediation Action Plan, which will deliver site specific remediation options and will also include exploring all Risk Assessment opportunities available as part of the Remediation Strategy which may lead to the remediation certification process.
Risk Assessment
Risk assessment is the method used for predicting whether a risk of adverse effects on the environment exists based on the exposure to a chemical substance.  It involves professional judgment and sound scientific rationale.
Risk is the chance that a receptor will experience a negative health effect when exposed to a hazard.  A hazard is a source/substance that causes negative health effects on a human or ecological receptor.
Factors that contribute to the risk level of a site include:
the exposure time a receptor has to a hazard;
the exposure pathway how the receptor is exposed (e.g., breathing in a vapour, skin contact); and,
the severity of the adverse effects of the chemical under the exposure conditions.
Risk assessment is used at complex sites where the assumptions used for Tier 1 guidelines or Tier 2 guideline modification or development do not apply.  The purpose of a risk assessment is to produce a realistic, defensible, and representative estimate of risks to both human and ecological receptors that are present at a site.
Risk assessment options can provide substantial cost savings to remediation projects by reducing the soil volumes that need to be removed. The application of risk assessment options allows Ridgeline to provide innovative value added solutions to our clients.
Subsoil Salinity Tool
The Subsoil Salinity Tool (SST) is a software program for developing Tier 2 soil remediation guidelines for chloride-based salt impacts below the root zone.  Using information such as site location and soil and groundwater data, the SST provides Tier 2 remediation guidelines for soil below the root zone (greater than 1.5 metres below grade (mbg)). Soil within the root zone must be remediated to meet salinity guidelines outlined in the Alberta Tier 1 Soil and Groundwater Remediation Guidelines (ESRD, 2014 a).
The site-specific Tier 2 remediation guidelines generated by the SST are protective of groundwater (drinking water, irrigation, livestock and wildlife watering), surface water (freshwater aquatic life) and the root zone.  The SST allows for the development of various remediation scenarios to identify the most beneficial scenario for the protection of on-site receptors.
Remediation Certificate
Ridgeline can complete an application for a Remediation Certificate, giving closure to Remediated areas on or off site.
Electromagnetic Surveys
An electromagnetic (EM) survey is a useful screening tool to assess elevated apparent conductivity areas and also establish representative locations for undisturbed background samples. The instruments that Ridgeline uses for the collection of the EM survey data are the Geonics EM31-MK2 (up to 6.0 metres below ground) and the EM38-MK2 (0.375-1.5 metres below ground). The EM instruments work by generating an electromagnetic field, called the primary field, by passing current though the primary coil. This field penetrates the ground and may induce a secondary EM field. The resultant field is detected by the receiver coil and differs from the primary field in both phase and amplitude in areas of elevated electrical conductivity. This signal can be thought of as consisting of two parts, one which is in phase with the transmitter (in phase component) and the other which is 90 degrees out of phase (quadrature component). Based on these differences the instrument reports an apparent electrical conductivity value measured in mili-Siemens per metre (mS/m). The in phase measurements are given in parts per thousand (ppt) deviation from the expected coupling between the transmitter and the receiver. The effective vertical resolution of the EM31 is approximately three to six metres. The effective vertical resolution of the EM38 is approximately one to one and a half metres. In areas of relatively constant geology, areas of high conductivity can be attributed to changes in soil salinity, grain size, metallic objects, porosity and the ionic strength of the pore water.
The GreenFill Alternative to Storing Oilfield Waste
Now you can significantly reduce Oilfield and Non-Oilfield Waste liability!
Ridgeline will remove, transport
and treat your impacted material at a GreenFill Treatment Site™ to regulated specifications. By using a conveniently located GreenFill Treatment™ Site you can reduce your waste transportation costs and save money on your backhaul costs.